Site Built Homes
A Build On Your Land home offers you the opportunity to design and build your dream home on land you have chosen and love.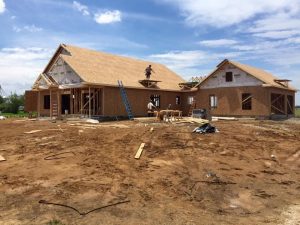 If you own a lot or your own land then you're ahead of the dream stage! If you haven't found that perfect site yet we can help you and work with you in your land purchase! If you dream of designing a new home that takes full advantage of the views and the surroundings then you're a perfect client for a "Build On Your Land" home. Below is a brief explanation of the process we use. This process can be very short based on your availability, it can take 3 to 4 weeks or it can take a couple of months.   We work with clients in the evening and on the weekends most of the time because like you, we also work during the week!
Exploration of the Land
How we start. If you own your land then we meet with you at the purposed building site. You will need to bring your plat map that shows all the building restrictions and setbacks. Before we can decide on the exact location of the home, we work with the utility companies to find out how and what utilities need to be dealt with. You have to think about your electric lines, gas lines and rather you have natural gas or are you required to have a propane tank. Sewage, how will that be handled? Water, where is it coming from? What are the regulations for your area? We always look at the overall site with you and discuss the elements that you want in your home. Something that so many people overlook is "What way is your home facing", yes this is very important. So, once all of these questions are answered then the fun starts.
Designing Your Home
Location of the home has been determined…check. You will need to have a budget so we can assist you in the design and keep you on target. Then we start with the basic questions.
What are your needs?

Bedrooms, bathrooms, garages, eating areas the basic things.

What are your wants?

Large walk-in closets, large owner retreats with large bathrooms, single story, 1 ½ story, 2 story, basement (that is only if you building site allows for a basement), large kitchen, pantries, and so much more.
Keeping in mind your budget, we take all this information and much more to our design center and start the preliminary plans. Once the preliminary floor plans are complete we meet back and go over them. This is your time to make changes. This is also the time we explain lots of aspects of a home and why we do certain things. In the end, it is your home and you're the one that will have all the final say. We just share with you things that have been done they may look good on paper but in reality, they don't work.   There can be several plan reviews throughout this process. The last few sessions are done at the design center with you so changes can be made and you can see them immediately. Once the floor plans are final and you have the house laid out to your expectations then on goes the elevations. Where do you want brick, stone, columns, shutters and siding lots of detail to the exterior of the home. When you have it just like you want it then we move to the next step.
Selections and Bids
We now have a working set of blueprints. We will sit down with you and ask many questions. Some answers we will already have the answers to because lots of detail about your home will come out while in the design stage. We will ask about cabinets, flooring, countertops, plumbing fixtures, lighting, appliances, showers, tubs, trim and much more. Remember you are not making your final decisions on any of these items, you are just giving us insight as to what you are wanting so we can bid your home as accurately as possible. The more we know the more you know. Several copies of your prints are made and a set with selections on them are giving to all the sub-contractors to give us a bid (cost) on your home.
Once all the bids have been submitted, then we go to work correlating all the information for the presentation. Keep in mind throughout this entire process we know your budget and will assist you in keeping it in line and sometimes that can get tricky!
The Presentation
This is our last meeting. We will have prepared for you the following:
The Proposal Letter: this is a brief synopsis of your home and the cost to build your home.
The Specifications Book: this is a 14 plus page book we put together detailing your home.
The Contract: this is the contract between you the client and we the builders to build your home based on your plans and the spec book
This is the last meeting before construction begins. Once all the information has been reviewed and meets all your expectation, we will authorize all the above and let the construction commence! In a few short months you will be moving into your new dream home
Workmanship Warranty
Homes by Benny Clark provides each new homeowner with a six-month workmanship warranty along with a very detailed binder on your new home. The warranty and binder is presented to you when we do a final tour of your home and hand you the keys!