Custom Home Builder Maceo KY
Design & Build Custom Homes on Your Land
Design & Build Custom Universal Design Homes
Energy Star Rated Homes
Standard Luxury Amenities
Free in-home Consultation
About Homes by Benny Clark
Build your new home with Homes by Benny Clark – Owensboro's premier custom home builder. Homes by Benny Clark builds exquisite custom homes throughout Western Kentucky, based on well-thought out architectural designs. Our homes are built with quality construction materials, maintenance-free and energy efficient products, and the highest craftsmanship. We are also a certified Green Builder and an Energy Star Partner.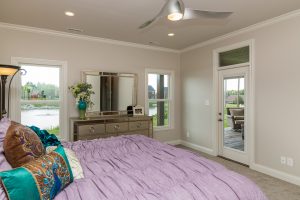 All designs by Homes by Benny Clark come standard with luxury amenities that other custom home builders consider "upgrades".
We also pride ourselves on providing outstanding customer service, including one-on-one consultations from the beginning to the end of the construction process. Call us today at 270-929-0581 to schedule a free in-home consultation and let us give you a firsthand look at the exquisite design, quality construction and outstanding customer service offered by Homes by Benny Clark.
Our Portfolio
Learn More About Custom Home Builder Maceo KY 
Universal Design Homes

Universal Design is a "Life Style in Place" or an "Aging in Place" home. It will meet the needs for all ages. You can live in this home as a young family just starting out and live there with parents returning home and you can live there to the end.
Here at Homes by Benny Clark we incorporate many aspects of Universal Design and Aging in Place into each and every home we build. We work with each of our clients to determine the current needs and what their needs may be in the future. We want to build your dream home to accommodate whatever life my throw at you.
There are many articles and books written on Universal Design and Aging in Place so I have listed several items that we try to include in the design and build processes of a home.
What Makes a Design Universal
Interior Circulation, how the home flows from room to room
Wide doors everywhere
Open plan minimizing hallways and doorway and maximizing sight lines
Slip resistant floors …porcelain tile in all styles and textures
Lots of Drawers in kitchens and bath vanities for lower cabinets
Bathrooms that is accessible for everyone
Showers that are step free
Total Step free home on the first floor
No thresholds at doors entering the home
Handheld shower heads, decorative grab bars, cabinets pulls (no knobs)
If a second floor is needed, widened staircase to allow for a future lift chair
Sink bases and cook-tops with knee space below
Rocker panel light switches
Easy access to storm/safe rooms
Colors play a very important part in the Universal Design home. So we work closely with our clients to achieve a balance and symmetry within the home.
This is just a small portion of the thought process that goes into each home we build. As a builder, we do not have to do all of these we can help our clients pick and choose what they want. Our job is to make you think about tomorrow! Each home should and always is a reflection of the homeowner we just assist you in making your dream home a reality.
Let's Talk About Your Next Custom Home